HubSpot SALES IMPLEMENTATION
Bring automation and efficiency to your sales process and enable your sales team to do more, collect better data, and automate your processes with Sales Hub and a trusted HubSpot agency partner.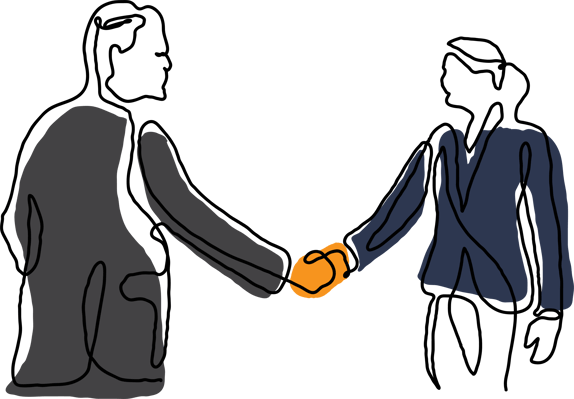 How it Works
Our HubSpot Sales Implementation packages are designed with our signature four-phase approach to success. The goal is to get your team up and running using the system as soon as possible – while still ensuring that the tools are set up correctly for your unique sales process.
Get Started with Essentials Implementation:
The Essentials Implementation is intended to set up your portal, synch or migrate your data, and prepare the activities you need to properly begin using the platform. We start with the general HubSpot setup tasks (like importing your data) and then get hub-specific. With the Sales Hub, this essential phase includes building custom templates for emails and landing page, setting up lead capture forms, creating a blog, planning an email drip campaign for nurturing your leads, setting up reports, and more.
Review Progress with Testing and Training

:
The goal of this phase is to give your team time to get to know the tool, while identifying the advanced implementation items you need for Phase 3. During this phase we'll provide training and a custom set of goals for your team to achieve. Plus, we'll go ahead and make any simple optimizations or changes you need during this time.
Scale Up with Advanced Implementation
Once you've got your HubSpot portal set up, and your team is comfortable using it – it's time to bring out the advanced tools. We'll take all of the necessary advanced Sales Hub features we identify with you during Phase 2 and program them for your unique business process. These can include lead scoring, advanced reporting, integrations, additional campaign assets, and more.
Keep Growing with Ongoing Support
To ensure the continued success of the new implementation, the final phase of our project will he HubSpot support. We'll be able to make small adjustments, offer additional training, and keep your sales team on the path to success.
But Why Sales Hub? And Why Do I Need a Partner?
Bring Efficiency and Automation to Your Sales Process With HubSpot CRM
Ready to bring your sales team into the world of organized, effective contact and deal management? Or maybe you're looking to move your CRM to a more user-friendly, full-featured platform that connects with your marketing and customer service teams? Whatever the case, you may be experiencing pain points related to the efficiency of your sales process, the reliability of your funnel reporting, and the alignment with your marketing and customer service teams.
If you're looking to solve those pain points – HubSpot Sales Hub could be the answer for you. This powerful but user-friendly CRM software has the variety of features you need to optimize your sales process and get your sales team onto a unified process and aligned with your marketing team.
Get Your Sales Hub Set Up Right With a HubSpot Implementation Partner
Setting up a new CRM can be a challenge – not only do you want to make sure everything is technically set up correctly, but you also need to ensure you have planned the right training and testing to get your sales team onboarded to the new software quickly and effectively. Thankfully, you've already found an experienced partner who can provide your team not just with the technical HubSpot set up but also with strategy, process planning, training, and more. Plus, we have the team of HubSpot experts on hand to help if you need custom programming or integrations to complete your sales process.
At Flawless, we've completed more than 200 projects - so you can trust that we know what we're doing when it comes to HubSpot enablement for Sales Hub. We start every project with a consultation so we can make sure we get to know your business and your needs and make the right recommendations.